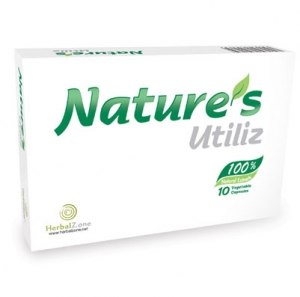 + Click for larger Picture
Name: Nature's Utiliz (10 Capsules)
SKU: m5
Description:
Nature's Utiliz is designed for those who are suffering from quick ejaculation and desire in promoting sexual abilities to get a vital cheerful lifetime. Medical literatures are rich in precautions about the use of chemicals for their bad and dangerous side effects. Recently knowledge is available about herbs and their miraculous abilities in treatment without side effects in comparison with chemical drugs.

This food supplement is composed entirely of herbal active biomolecules produced in specific quantities by modern bioengineering technology which enables the active biomolecules to be processed & absorbed by human body safely & easily. The unique herbal formula created according to Asian Ayurvedic medicine, employing advanced bioengineering technology.
Detail:
Our expertise and follow-up of herbal medicine for over 30 years produced this unique blend of natural herbal extracts well balanced and synergistic to support a recognized life style with health and vitality. It sparks desire, enforces & prolongs erection & promotes fertility.

Young or old, Nature's Uitaliz is best for:
- Infertility.
- Impotence.
- Improper, little Ejaculation.
- Incomplete arousal and feeling of continence.
- Ineffective penile erection.
- Weak sexual enjoyment and arousal.
- Short sexual intercourse.
- Avoiding intercourse and frequency.
- Feeling of exhaustion and fatigue after sexual performance.
- Generalized weakness and improper body built.

How It Works
Sexual desire in man starts by stimulation of certain sensations such as sight, smell, touch and taste which promote hypothalamus-pituitary-testis axis through enhancements of male sex hormone testosterone and its active derivative. This function leads to penile erection and activation as a result of modulating specific enzymes that induce vasodilatations and relaxation of penile corpus cavernous for a surplus supply of blood. The hormones increase sensitivity in the area and prolong erection with energy supply to produce the sperms for fertilization. The physiology of reproductive sexual activity includes spermatogenesis in the seminiferous tubules with prostatic secretions and penile erection under the control of male sexual endocrine hormones.

Nature's Uitaliz is:
An aphrodisiac
For healthy individuals who intend to improve their sexual life style.
For old men suffering from sexual impotence.
The remedy for erectile dysfunction and rapid loss of erection by promoting blood circulation in the penis.
To treat improper ejection of an immature seminal fluid.
To prolong erection and delay ejaculation.
To enhance fertility by increasing the quantity and vitality of sperms.
To support sexual enjoyment and arousal by enhancing the sensations.
For more frequent sexual intercourse with the desirable arousal.
For a higher vitality without exhaustion after the sexual activity.
For enhancing immune response.
For generalized weakness to strengthen body built.

Ingredients:
- Radix Eurycoma longifolia root - 180 mg per capsule
- Radix Panax ginseng root - 75 mg per capsule
- Bee Pollen - 45 mg per capsule

Dosage:
1 capsule a day

Mode of administration:
Oral

Packing:
10 vegetable capsules

Type of product:
Traditional herbal preparation.

Storage:
Keep in a cool and dry place. Keep out of reach of children.